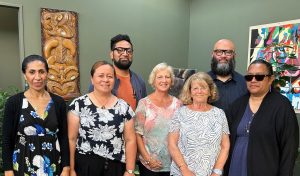 On behalf of the Board of Trustees, I would like to extend a warm welcome to you and your whanau. We are proud of our school and keenly promote the close links between the school and our families. We value your interest and assistance in all aspects of school life.
The Board's responsibility is to govern the school on behalf of parents. There are 5 elected members, a staff representative and the Principal – all of whom have an equal voice.
The Board of Trustees meets every month – usually the last Monday of each month. Members of the public are welcome to attend and maybe granted speaking rights by the Chairperson.
On behalf of the Board, I wish your children a happy and full school life, and you as parents/ caregivers a rewarding and involved time with our school community.
Nga Mihi
Tinei Tagaloa – Leniu
Board Chair 2023
Meeting Dates
Usually the last Mobday of each month at 5.30pm. Do check newsletters and/ or the office to confirm dates. All welcome.
Contact the Board
If you wish to contact the Board, please send any correspondence to:
The Chair, Board of Trustees
c/- Viscount School, Viscount Street, Mangere, Auckland 2022
Or send an email to admin@viscount.school.nz attention The Board of Trustees
Board Elections
Please click on the button to know more about how to become a board member and watch the video for the 2022 school board elections.